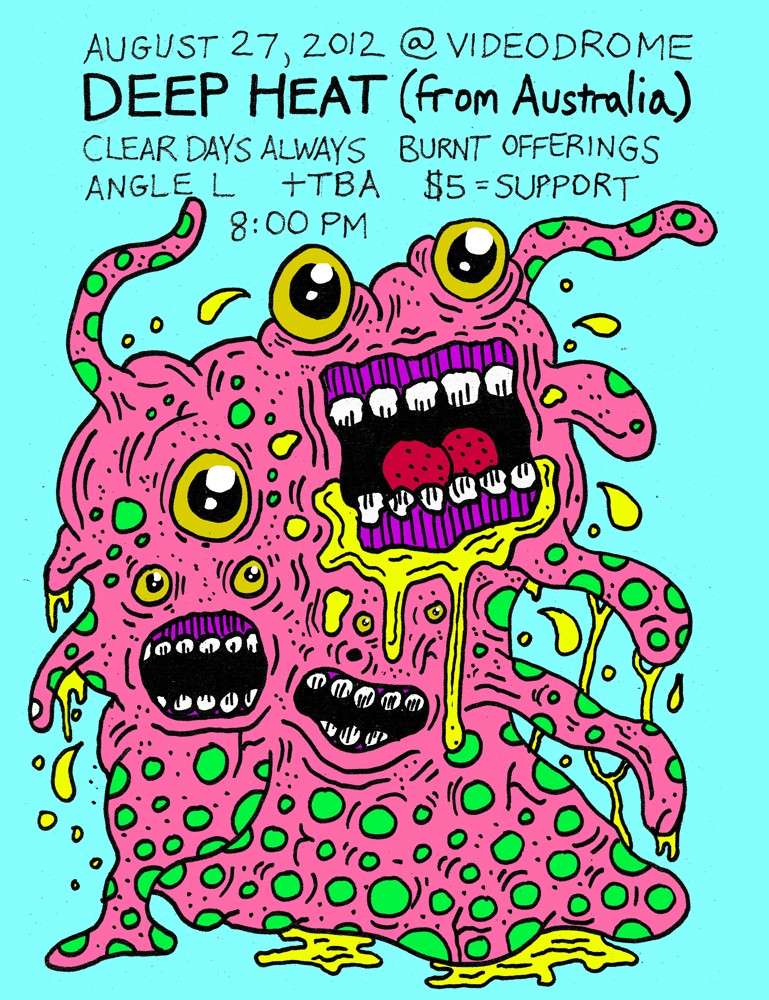 MONDAY AUGUST, 27th 2012
8:00 PM
LIVE @ VIDEODROME
(Lost ? Message Brandon or call\text 616-308-2135)
$5 = SUPPORT
Well here's some unexpected radness. A show of international proportions - Dreamy gothy-garage rock from all the way down under in Australia meets acoustic strings of sorrow and whining synthesizer songs. New guard and old collide - A night of moody melodies live @ Videodrome
DEEP HEAT = Traveling all the way from Melbourne, Australia - punk fused garage rockers DEEP HEAT come in hot on this U.S. tour to make booty's shake and eyes tear up at the same time. Incredibly well written songs with some of the most gripping melodies heard on either side of the equator. Totally gripping music - don't fuck up and miss out!
http://deepheatband.bandcamp.com/
CLEAR DAYS ALWAYS = Grand Rapids, MI legend. Easily some of the most important songs written of our time - highly experimental and progressive song writing combined with pure moments of genius and\or total insanity and mental collapse. More talent in this dudes beard hair than in your mom's tired old church organ hands. REAL TALK - Actually - perhaps the realest talk ever spoke?? Kurt Kobain would be touring with this guy if it wasn't for that one time he had that accident…Sing the sorrow ya'll - Top top shelf shit.
https://www.youtube.com/watch?v=OciOQ5KABW8
BURNT OFFERINGS = STRANGE goth offerings from this GR misfit. Oddly occult compositions of something in between 80's synth pop and total sex\death and depression wrapped in a hue of smoke. Monotone vocals and brooding drum machines psychosexually mate with cheap synths and samples. One of a kinda right here. Lo-Fi synth scum. Awesome.
https://www.youtube.com/watch?v=QVSoSfFtv2Y&feature=plcp
ANGLE L = Debut of Love\Hate songs written by machines. Played by machines. Man is controlled by machines. Machines run the world.
+ TBA